Flowering pond plants are ideal for adding color and enhancing the appearance of your backyard pond.
Here are 10 easy to grow pond plants with beautiful flowers to consider adding to your pond.
Some of these plants can be planted in pots and placed on the bottom of the pond while others will grow best planted around the edge of the pond.
This post about flowering pond plants contains affiliate links. Please read the disclosure for more info.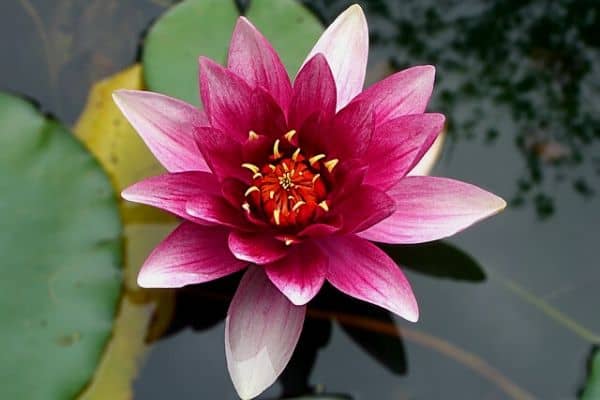 10 BEST POND PLANTS WITH FLOWERS
1. Water Lily (Nymphaeaceae)
Water lilies
are one of the most popular flowering pond plants, with beautiful brightly colored flowers in a range of colors including pink, purple, red, blue and white.
They can be planted in pots placed underneath the water and the plant's leaves and flowers will float on the surface of the pond.
Water lilies bloom from spring until fall and the flowers open in the morning and close when the sun goes down.
If you have a waterfall or fountain in your pond, it's best to plant your water lilies away from the splashing water where the water is calm.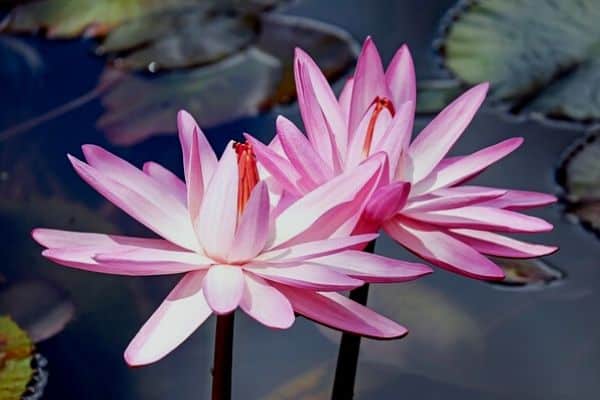 2. Lotus (Nelumbo nucifera)
Lotus
is another popular water garden plant and their beautiful pink and white flowers are ideal for adding beauty to a backyard pond.
Lotus plants grow best in warm areas in a position with full sun and they can be planted in a shallow pot placed in the pond.
Tropical varieties of lotus will grow year round but the perennial varieties go dormant during winter and re-grow in spring when the weather warms up.
RELATED: How To Grow Lotus Plants From Seed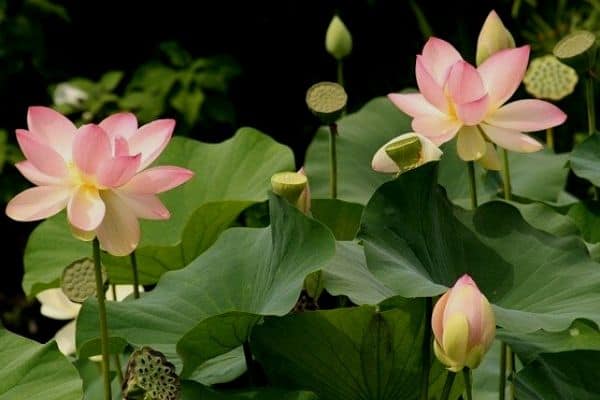 3. Calla Lily (Zantedeschia aethiopica)
Calla lilies
, also called Arum lilies, are an ideal flowering plant for pond margins.
They have long shiny green leaves and distinctive white flowers.
Calla lilies grow best in areas that don't have heavy frosts and they reproduce from rhizomes and seeds.
Important Note: Calla lilies are toxic so it's not a good idea to plant these flowers if you have small children or pets in your yard.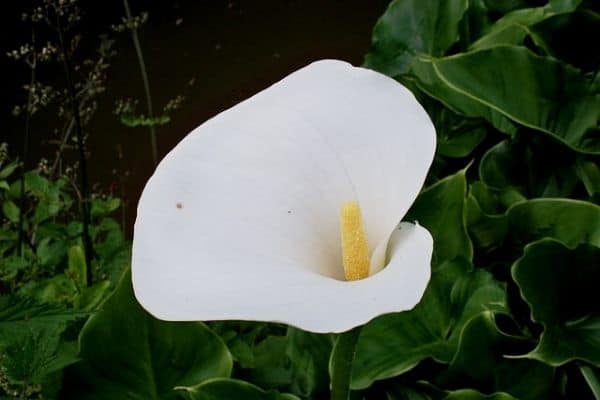 4. Canna Lily (Canna indica)
Canna lilies
are low maintenance perennial plants that look great growing around the edge of a pond.
They grow from underground rhizomes and the flowers can be orange, red or yellow with green, maroon or variegated foliage.
Canna lilies will grow in full sun or part shade and in cool areas they can be grown as annuals.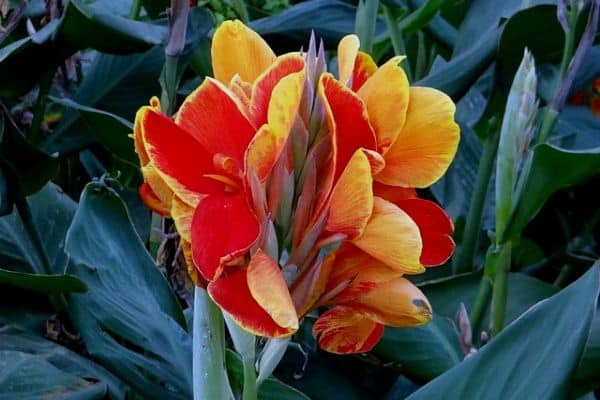 5. Iris (Iris germanica)
Irises
are hardy perennials that can be planted around the edge of a pond.
They can grow 2 to 3 feet (60 to 90 cm) tall with beautiful flowers in shades of purple and blue.
Irises are helpful for stabilizing the bank of the pond and cycling nutrients to keep the pond healthy.
They're frost tolerant and grow well in full sun to part shade and bloom from early spring.
The plants can be divided when they're finished flowering by removing the old middle section and replanting the newer growth in the outer sections.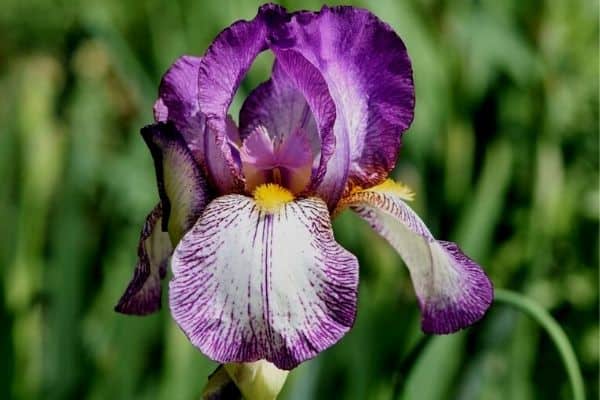 6. Cardinal Flower (Lobelia cardinalis)
Cardinal flowers
are brightly colored tall perennial plants to grow around the edges of your pond.
They can grow 3 to 4 feet (90 to 120 cm) tall and they're suited to part shade or full sun.
Cardinal flowers usually only live for 3 to 4 years but they self-seed easily so you'll have plenty of new plants springing up.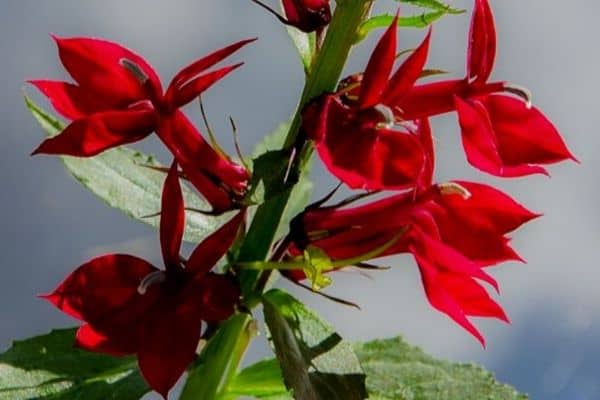 7. Water Hyacinth (Eichhornia crassipes)
Water hyacinths
are fast growing, perennial flowers that float on the surface of the pond.
They have beautiful purple flowers that appear from late summer to early fall and each plant will produce about 20 flower stalks that grow up to 6 inches (15 cm) tall.
Water hyacinths are attractive pond flowers but they're an invasive species in many areas so it's important to learn how to manage and control their growth before planting them in your pond.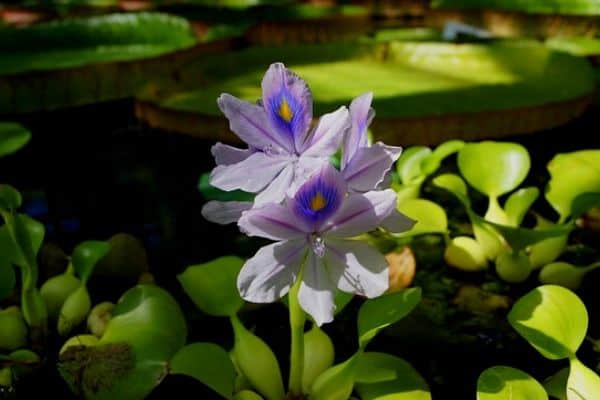 8. Marsh Marigold (Caltha palustris)
Marsh marigolds
, also known as Caltha cowslip, are low maintenance perennial flowers that grow best in moist, boggy areas, so they're perfect for planting around the edge of a pond.
They grow best in a position with full sun and can reach 12 to 18 inches (30 to 45 cm) tall. [1]
Marsh marigolds spread from rhizomes and seeds and they're great for attracting butterflies and hummingbirds to your garden pond.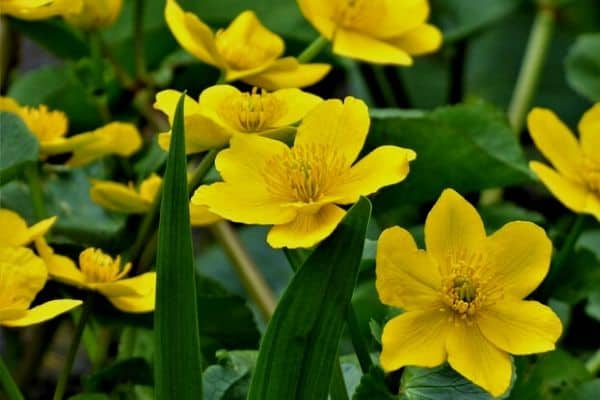 9. Water Hibiscus (Hibiscus coccineus)
Water hibiscus, also known as swamp hibiscus, is a beautiful flowering plant that is perfect for moist, boggy areas around a pond.
The petals are long and separated from each other, unlike other types of hibiscus and the flowers can be up to 8 inches (20 cm) in diameter.
Water hibiscus flowers will grow in full sun or partial shade.
They will die back in winter and grow again in springtime.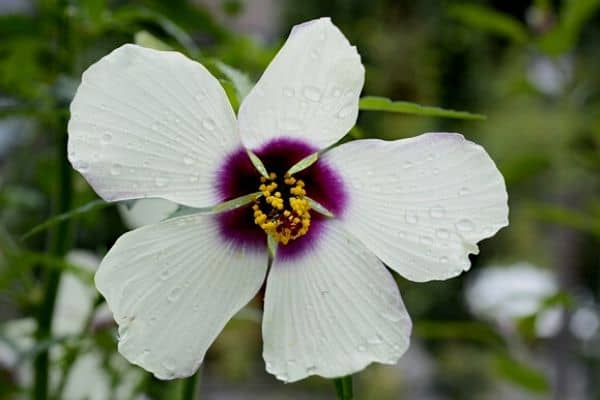 10. Pickerel Plant (Pontederia cordata)
Pickerel plant
, also known as Pickerel weed, is another attractive flowering plant for ponds.
The spiky flowers are long lasting and can be white, blue or pink.
Pickerel plants will grow in moist, swampy soil and can also tolerate standing water, so you can plant them at the edge of the pond or on a shallow pond shelf.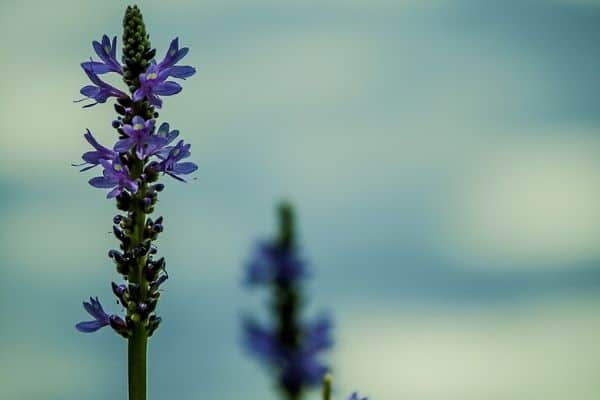 So there are 10 of the best flowering pond plants to beautify your garden pond.
These plants are ideal for ponds that receive at least 5 to 6 hours of sunlight each day.
RELATED ARTICLES
Which of these flowering pond plants do you like best? Let me know in the comments below.
Are you on Pinterest? I have boards dedicated to Pond Plants and Garden Ponds that you may enjoy.