Child-proofing your backyard pond
Ponds are fascinating for kids and they're a great way for kids to learn about nature, but they pose a significant drowning risk if kids are left unsupervised in the backyard.
No matter how shallow your pond is, it's still a drowning risk for toddlers and young children.
Kids can drown in as little as 2 inches (5 centimeters) of water. [1]
So other than draining your pond or water feature, how can you make your pond safe for kids?
Here are 9 ways to child-proof your backyard pond.
This post about pond safety for kids contains affiliate links. Please read the disclosure for more info.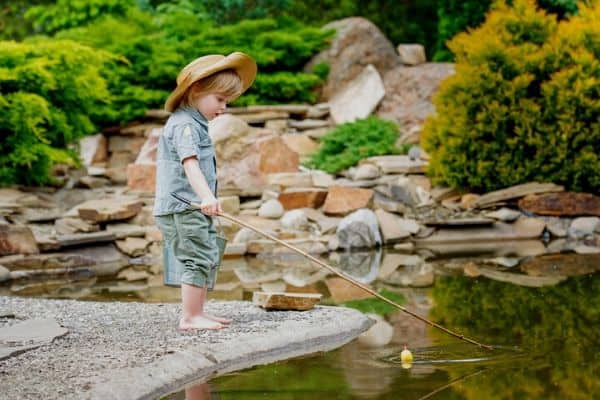 MAKING YOUR POND KID-SAFE
1. Install a safety fence around your pond
One of the most common ways to child-proof a garden pond is to install a fence or safety barrier to keep kids out of the pond area.
The fence should be high enough so that kids can't climb over it and garden furniture needs to be kept away so that it can't be used as a climbing aide.
You'll also need to regularly check the safety latch on the gate. [2]
Many towns and cities have rules about fences for pools and ponds so you'll need to check the requirements if you're planning to build a new pond in your backyard.
2. Set rules about going near the pond
Toddlers don't understand the dangers associated with ponds and water features, so they need to be watched closely when they're in the yard, but as your children get older it's important to talk to them about pond safety and set some firm rules like not going near the pond if an adult isn't around to supervise.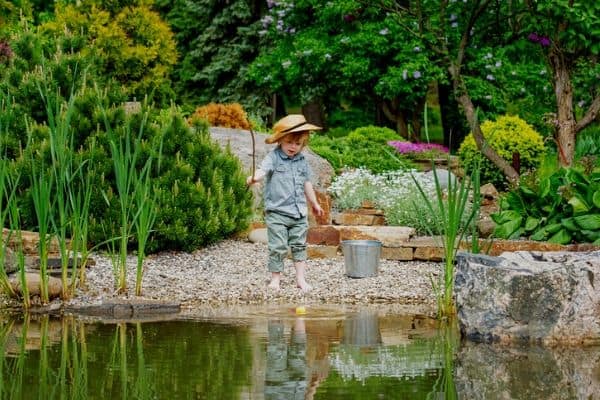 3. Pond mesh
Thick mesh
can be installed above the water level of your pond to kid-proof it.
This will still allow the fish to come to the surface and kids can walk right on top of the mesh.
Chicken wire
is not recommended to cover the pond because it's not strong enough to support the weight of a child.
4. Pond Covers
There are a wide variety of pond covers
available, but for pond safety, the cover will need to be secured to the ground with metal pegs so that kids can't move it away or climb underneath it.
5. Install a pool alarm
Pool alarms
float on the surface of the water and sound an alarm when something enters the pond.
These are a good option if you have a pond without fish.
6. Elevate the pond edges
Building up the sides of the pond with large rocks can help to provide a barrier around the pond and prevent kids from accidentally falling into the pond.
It's a good idea to use cement to secure the rocks in place.
You can also plant some tall pond plants like grasses or irises around the deepest part of the pond.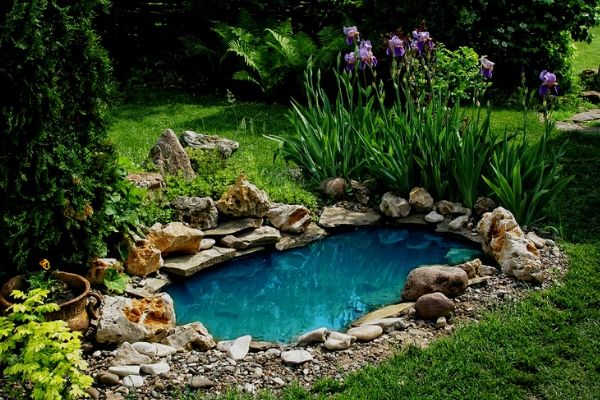 7. Position the pond where it can be seen from the house
The ideal location for a pond is somewhere that can be easily seen from the house.
If your pond is tucked away in a corner of the backyard that isn't easily visible, you'll have to be extra vigilant about supervision and making sure that the pond area is secure.
8. Learn resuscitation
If you have a pond or pool in your backyard it's essential to have up to date first aid and resuscitation training.
Most people will never need to perform CPR (cardio-pulmonary resuscitation) but you never know when you may need those skills.
9. Install a pondless water feature
If you're in the process of deciding whether or not to install a garden pond, why not consider a water feature instead?
There are many water fountains
that provide the calming and tranquil sounds of flowing water without a visible water reservoir.
This type of water feature is perfect for people with small kids at home.
So there are my garden pond safety tips for kids.
Ponds and water features are great for enhancing the look of your backyard but it's important to have measures in place to keep your kids safe.
RELATED ARTICLES
How do you keep your pond safe for kids? Let me know in the comments below.
Are you on Pinterest? I have boards dedicated to Backyard Ponds and Water Gardens that you may find helpful.