Shady Garden Ponds
Is it possible to install a pond in a shaded area?
Many people think they can't have a pond because their backyard is too shaded or the only spot available is under a large tree.
Shady ponds do require more maintenance but it's possible to create a beautiful shaded pond by following a few simple tips.
This post contains affiliate links. Please read the disclosure for more info.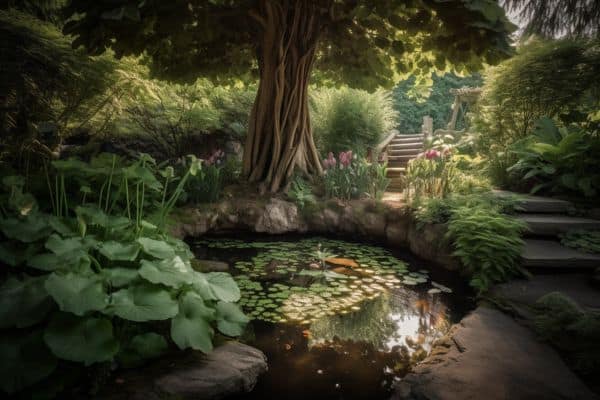 Disadvantages of shaded ponds
Trees are helpful for providing shade for a pond, but the falling leaves, especially from deciduous trees, along with dead flowers, twigs and seeds can cause a lot of problems.
This debris not only looks unsightly in the pond, it also creates toxic gases as it breaks down.
These gases can lead to fish kills, especially during winter if there is ice covering the pond.
A large amount of leaf matter in the pond also increases sludge and muck build up.
Dealing with falling leaves
The best way to prevent leaves falling into the pond is to cover the pond with netting
.
If you have frogs visiting your pond, you can install a raised net supported by poles, which will allow the frogs and other wildlife to access the pond, while still catching the leaves.
It's also a good idea to cut back as many overhanging branches as possible.
Some other ways to keep leaves out of your pond are to use a long handled net
to scoop out the leaves or install a pond skimmer
, which will skim off the debris before it sinks to the bottom of the pond.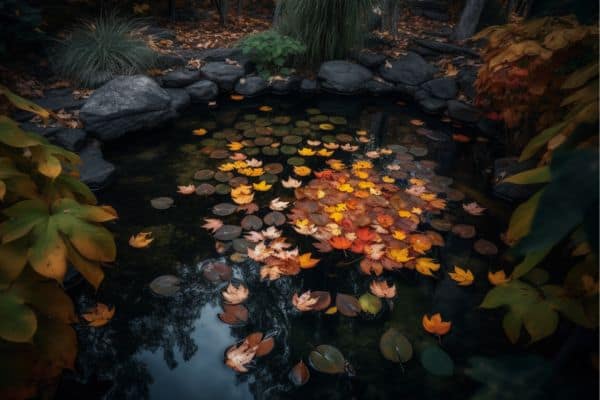 Advantages of shady ponds
Shaded ponds are much cooler, which is especially beneficial in hot climates.
When the water is cooler, the fish will come up to the surface more often, instead of hiding at the bottom of the pond.
Ponds in shady areas are also less likely to be affected by algae overgrowth because algae need sunlight to grow. [1]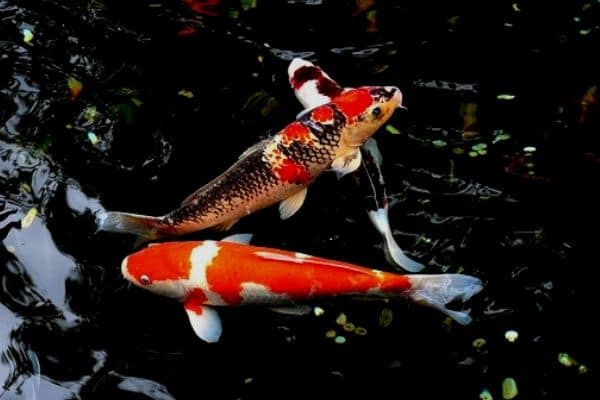 Building a pond in a shady area
If you're planning to install a pond in a shaded area of your backyard, you'll need to dig down and remove all of the tree roots from the hole.
It's also a good idea to use a thick pond liner
to prevent the roots from puncturing the pond.
You could also lay some old carpet underneath the pond liner for extra protection or use a preformed pond
, which is less likely to be damaged by tree roots.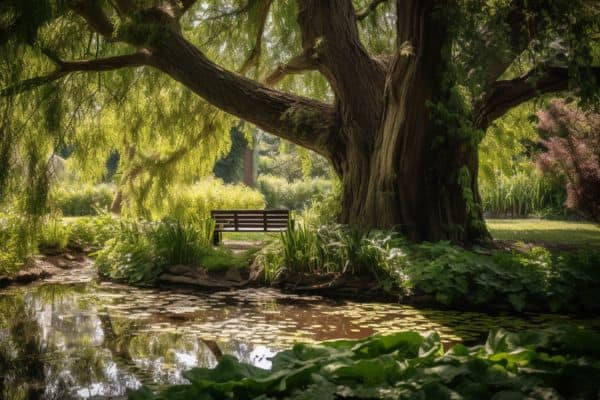 Plants for shaded ponds
Most pond plants need at least 4 to 6 hours of sunlight each day but there are a few plants that will do well in partial or dappled shade.
Some of the common pond plants like water lilies
, lotus
and water hyacinths
can be grown for their foliage in shady ponds, but they're unlikely to flower in the shade.
Other good options include water lettuce
, pennywort
(gotu kola) and water snowflake.
There are also some varieties of irises and taro that will tolerate partial shade and would look great planted around the edge of the pond.
Instead of using plants around the exterior of the pond, you can also use rocks, pebbles or gravel.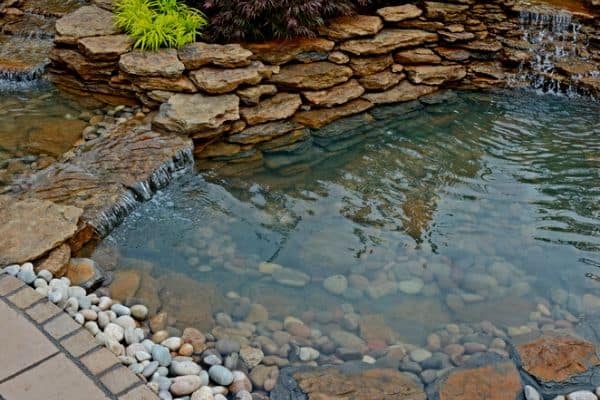 So there are my tips for maintaining a healthy garden pond in a shady area.
Having a shaded backyard doesn't mean that you can't install a pond; it just requires some planning and a bit of extra maintenance.
RELATED ARTICLES
Are you thinking of creating a pond in the shade? Let me know in the comments below.
Are you on Pinterest?  I have boards dedicated to Garden Ponds and Water Gardens that you may find helpful.