Would you like to build a small pond in your backyard but you're short on space?
Even if you have a tiny backyard you can still install a small garden pond.
Here are 15 beautiful small backyard pond ideas to get you started.
Some of these ponds are ideal for small fish, while others are wildlife ponds that will attract birds, frogs, lizards and many other types of wildlife to your backyard.
This post contains affiliate links. Please read the disclosure for more info.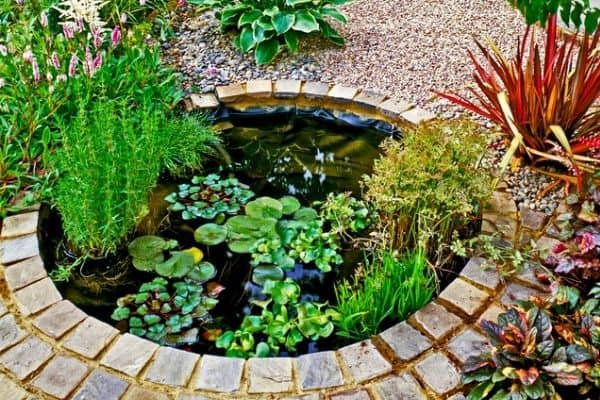 SMALL BACKYARD POND IDEAS
1. Small Rectangle Koi Pond
How nice would it be to have a beautiful koi pond right outside your back door?
This rectangular pond is large enough for a few plants and fish and it's surrounded by pavers so you could set up an outdoor seating area to sit and watch the fish.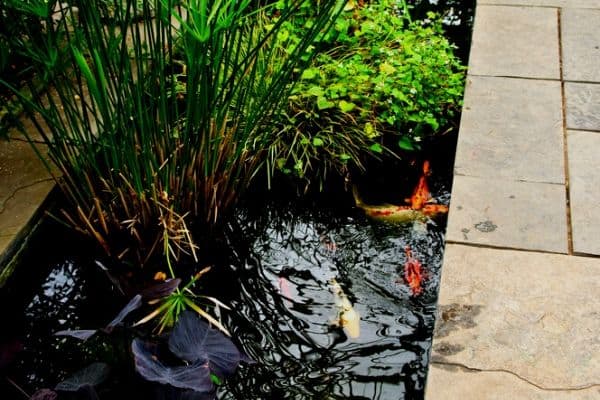 2. Small Oval Shaped Pond
This beautiful oval shaped pond is surrounded by different shaped rocks and beautiful purple irises.
Notice that the water is a beautiful aqua blue color? You can get this effect by adding a small amount of blue pond dye
to the water.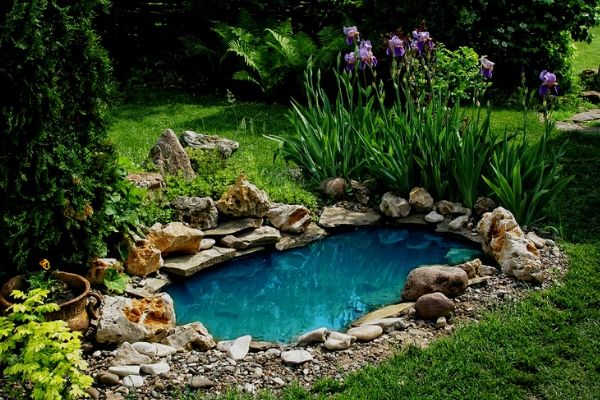 3. Small Round Pond with Flat Rocks
Beautiful flat rocks placed around the edge of the pond with some of the rocks overhanging provides shade for fish and a place for them to hide from predators.
The reddish colored rocks contrast well with the bright green of the ferns and other plants surrounding the pond.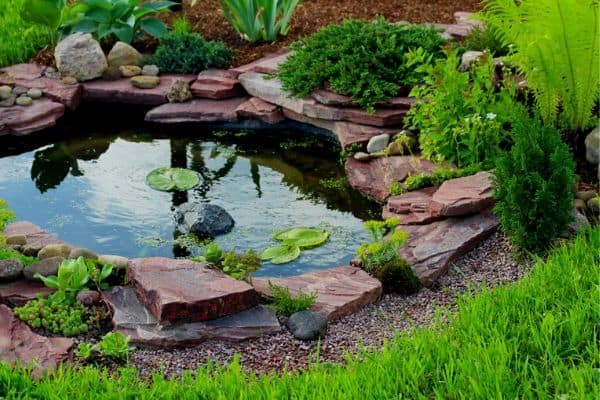 4. Small Gravel Lined Pond
This little pond is lined with gravel and has gently sloping edges, making it ideal for visiting wildlife like frogs, lizards and birds to enter and exit the pond.
You could easily construct a small wildlife pond like this in a day or two.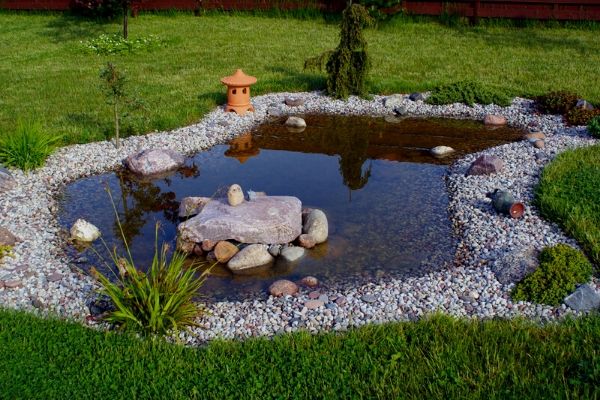 5. Hexagonal Pond
This small hexagonal pond is situated between a wooden deck and a beautiful manicured green lawn.
It features an abundance of floating and marginal pond plants and behind the pond is a lush garden that helps the pond to blend into the surrounding landscape.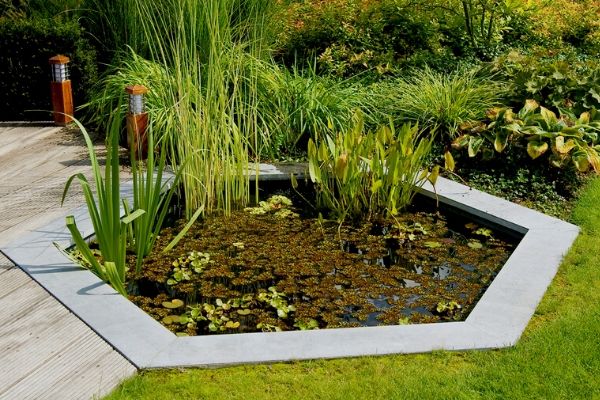 6. Small Backyard Pond With Bridge
Adding a beautiful ornate metal bridge
to a pond can transform your backyard and make the area more accessible.
If you have fish in your pond, a bridge will provide an elevated platform to view them from.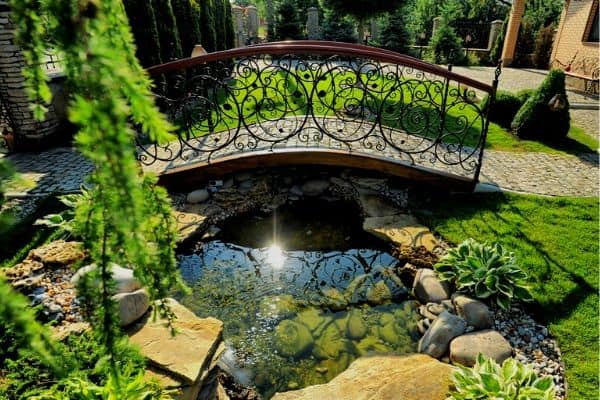 7. Small Pond With Stacked Rocks
This beautiful pond is edged with stacked rocks and has beautiful yellow irises planted in the middle.
The picnic table would be a great place to sit and enjoy the pond.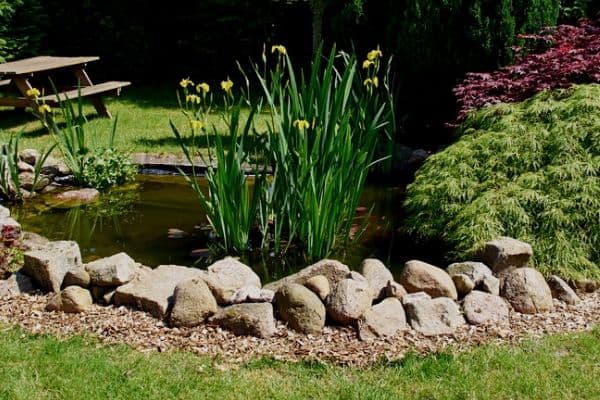 8. Natural Pond With Waterlilies
This natural pond features an abundance of waterlilies and other pond plants.
The large rock placed in the water makes it easy for birds to land and take a drink. It's also a perfect spot for lizards to sun themselves on.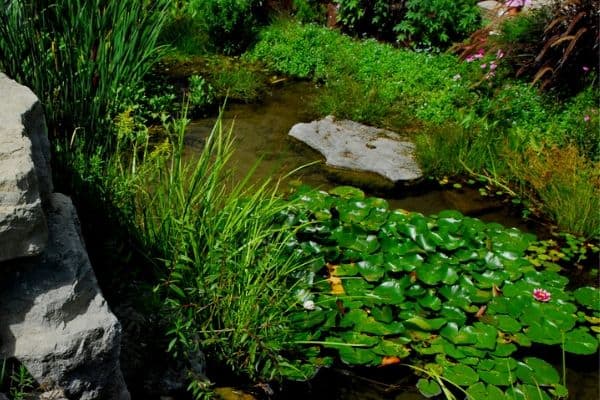 9. Natural Pond With Gravel
This is another natural pond that uses gravel on the bottom. It's surrounded by beautiful plants and pavers.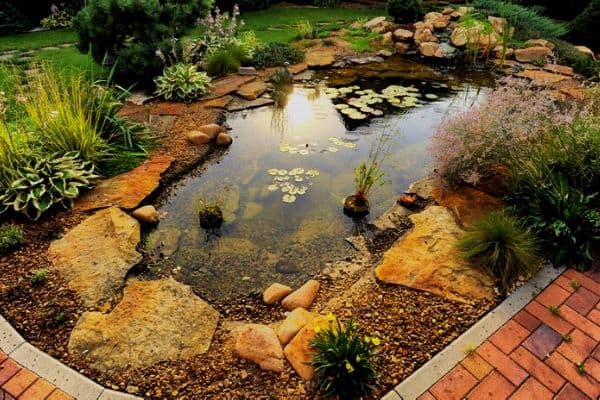 10. Small Kidney Shaped Pond
This kidney shaped pond is made using a pond liner with rocks around the edge.
As you can see, the pond liner
is partially visible underneath the rocks, so if you're building a pond like this, it's best to use large flat rocks that slightly overhang the edge of the pond which will hide the liner.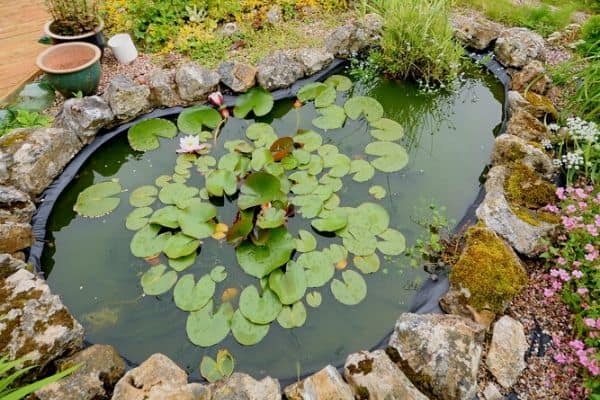 11. Pond With Rock Wall
This beautiful pond features a wall at one side made from stacked rocks and pebbles on the other side.
There are two waterfalls to keep the pond aerated and create a beautiful flowing water sound.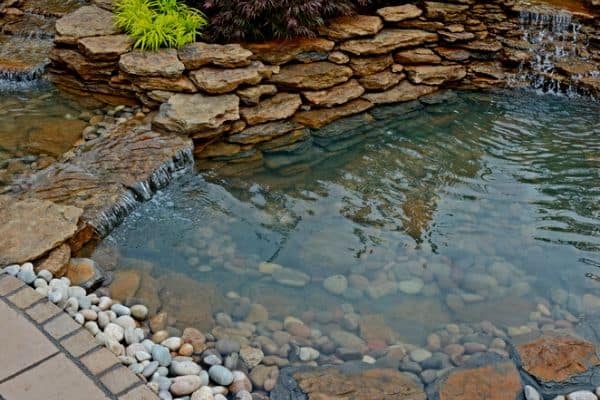 12. Natural Pond With Large Rocks
This natural pond uses large flat rocks around the edge and a gradual waterfall for a beautiful trickling water sound.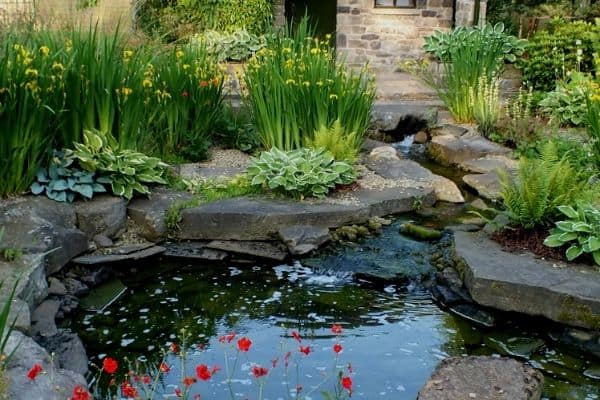 13. DIY Small Pond
If you're looking for an easy DIY backyard pond, this pond kit
contains a pond liner, pump, two fountain heads and installation instructions.
This would be a good weekend DIY project.
14. Above Ground Pond
If you're really short on space, an above ground pond like this one
would be perfect for a balcony, deck, courtyard or patio.
It includes a pump, LED waterfall light, clay growing media and decorative gravel.
15. Pondless Waterfall
A pondless waterfall made from stacked flat rocks is a great alternative to a pond for a small backyard.
A pump
is used to transport the water from the pebbled area up to the top of the waterfall to create the beautifully relaxing sound of cascading water.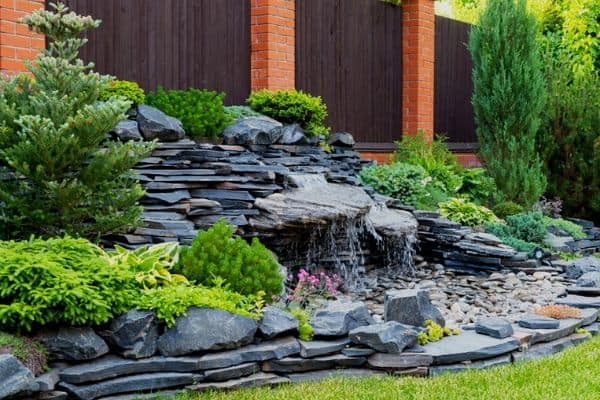 So there are 15 small garden pond ideas to get you started.
I hope these ideas have given you some inspiration for your own backyard pond.
RELATED ARTICLES
Which of these small pond ideas do you like best? Let me know in the comments below.
Are you on Pinterest? I have boards dedicated to Backyard Ponds and Water Features that you may find interesting.
Also, don't forget to pin this post so you can come back to it when you're ready to start designing your pond.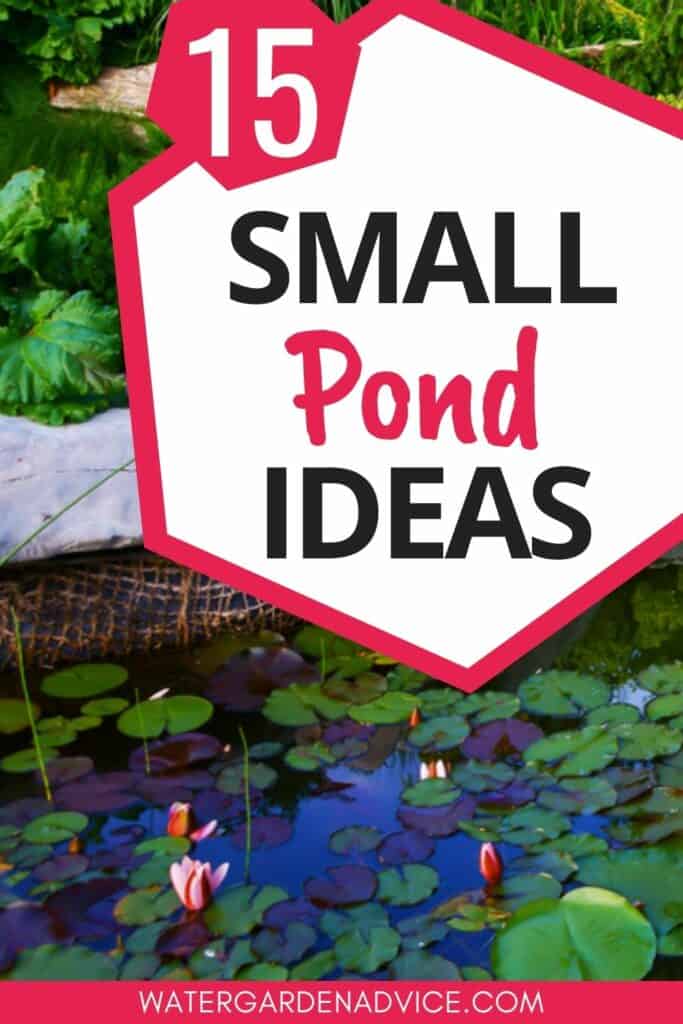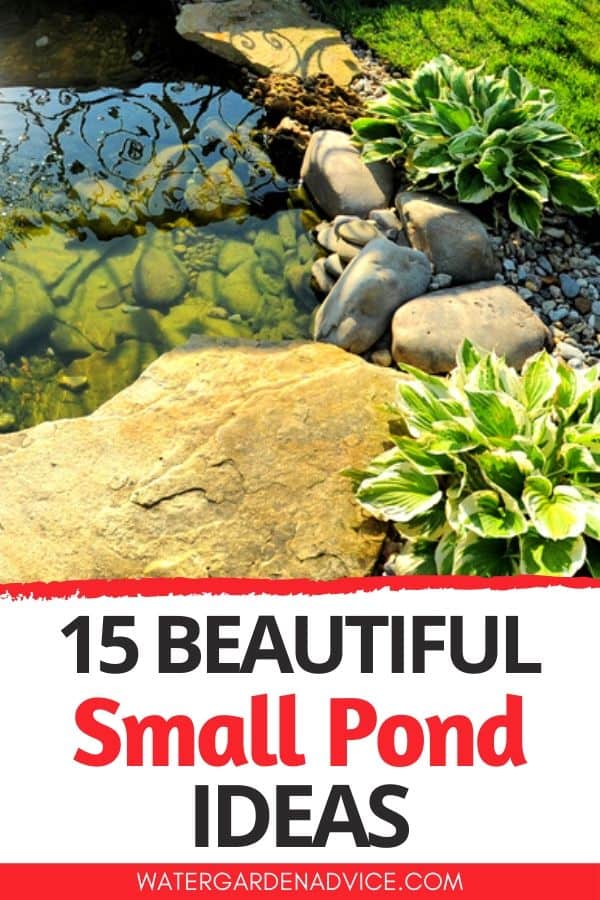 Also, check out the Must-Have Pond Products page where I list the essential pond products to make life as a pond owner much easier!