Bamboo water fountains not only look beautiful, the sound of trickling or flowing water can transform your yard into a relaxing, serene oasis.
Here are 10 of the best bamboo water fountains that are inexpensive and easy to set up.
These fountains can be installed in a garden pond or used as a stand-alone water feature indoors or outdoors.
This post about bamboo water fountains contains affiliate links. Please read the disclosure for more info.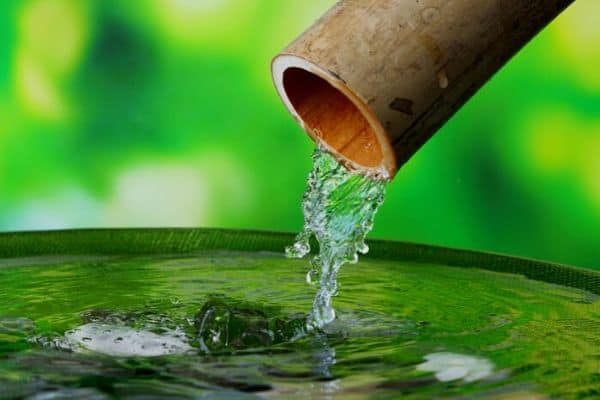 10 BEST BAMBOO WATER FOUNTAINS
This outdoor bamboo water fountain is adjustable in height up to 24 inches (60 cm).
At the maximum height it will provide melodic splashing sounds, while at a lower height the sound will be calming and soothing.
The bamboo spout is handcrafted from Tam Vong bamboo, which is stronger than steel by weight, so it resists splitting or cracking better than other types of bamboo.
This fountain doesn't come with a container so you can personalize the design to suit your own preference. You could use a half wine barrel or a large ceramic bowl.
The water fountain kit includes a submersible pump and tubing and it only takes a few minutes to install.
This bamboo fountain is ideal for creating an above ground water garden on your patio or balcony.
It measures 15 inches (38 cm) high and extends from 18 to 30 inches (45 to 76 cm) long to fit a wide range of containers.
This cute bamboo fountain measures 12 inches (30 cm) high and can be used indoors or outdoors to create a serene tranquil environment.
The water cascades down nine levels and then onto the paddlewheel which makes it turn.
This is a water feature that you could sit for hours and watch. Kids would love it too.
It comes with a pump and flexible tubing for easy installation.
This 3 tier water fountain is made from high-quality poly-resin which closely resembles the look of real bamboo and replicates the designs commonly found in Japanese gardens.
Its 15 inches (38 cm) tall, lightweight and can be easily installed in a pond or large container water garden.
Made from high quality Tam Vong bamboo, this 12 inch (30 cm) wide bamboo fountain is versatile enough to create tranquil sounds on an outdoor balcony or patio as well as inside the house.
Pair it with a beautiful ceramic pot or pottery bowl to create your own beautiful water fountain.
It includes a submersible pump and tubing and only takes a few minutes to set up.
This bamboo fountain pond is ideal for creating a beautiful water garden on a patio or courtyard.
It measures 16 inches (40 cm) square and has a textured slate finish that won't fade or chip.
Shishi Odoshi is a traditional Japanese bamboo water fountain that is used to scare away deer and other animals. [1]
If you've visited a Japanese garden you've probably seen this type of water fountain.
The bamboo cylinders slowly fill with water and when they become full, the tube tips and the water flows out.
As the bamboo cylinder tips back, it hits a rock, which creates the distinctive sound of the fountain and helps to scare away annoying visitors to your garden.
This 20 inch (50 cm) Shishi Odoshi fountain is easy to set up and suitable for indoor or outdoor use.
It's made from mature split resistant bamboo poles that are sustainably harvested.
This Shishi Odoshi fountain is made of high-quality poly-resin to replicate the designs found in traditional Japanese gardens.
You'll often find this type of bamboo fountain in Zen gardens and they're a helpful focal point for meditation.
This tall bamboo fountain is handcrafted from high quality Tre Gai bamboo and includes a quiet 110-Volt pump to recirculate water throughout the fountain.
This compact tabletop bamboo water fountain is perfect for creating a peaceful environment indoors.
It measures 7 inches (17 cm) wide and it doesn't come with a container, so you can choose one that will suit your home décor.
So there are 10 of the best bamboo water fountains to beautify your home or backyard.
These beautiful bamboo fountains make it easy to have your own tranquil oasis at home, even if you have limited space.
The warmer months are an ideal time to sit outdoors and enjoy the relaxing sounds your fountain.
Which of these bamboo water fountains do you like best? Let me know in the comments below.
Are you on Pinterest?  I have boards dedicated to Garden Ponds and Water Gardens that you may enjoy.