How To Landscape Your Backyard Pond Area
Landscaping around a pond helps to beautify the pond and blend it into the surrounding area.
Depending on the plants you choose, you can also attract birds, butterflies and wildlife to your backyard pond.
If you're wondering what to plant around your pond, this guide will provide some great options for year round color and interest.
This post about pond landscaping contains affiliate links. Please read the disclosure for more info.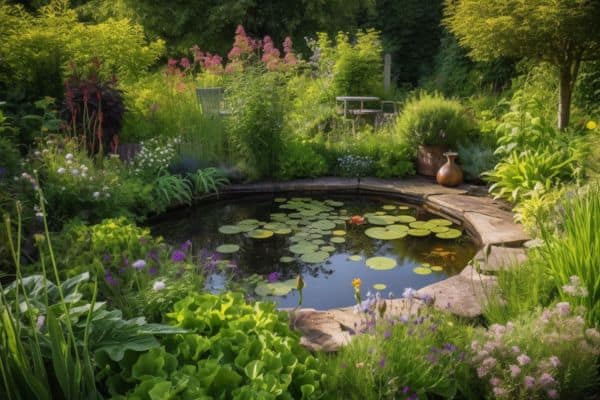 POND LANDSCAPING TIPS
Before you start buying plants, take into account the amount of sun the pond area receives because most flowering plants will need at least 5 to 6 hours of sunlight each day.
If you have lots of trees that are blocking the sun, you may need to trim back some of the branches.
Backyards with very hot afternoon sun may need a shade sail to protect the pond and plants from the scorching sun.
Sketch out a design on paper so you have a good idea of how many plants you'll need.
Choose a mix of annuals and perennials that will bloom from spring until fall.
It's not a good idea to plant large shrubs in front of the pond because they'll block your view of the pond from the house as they grow.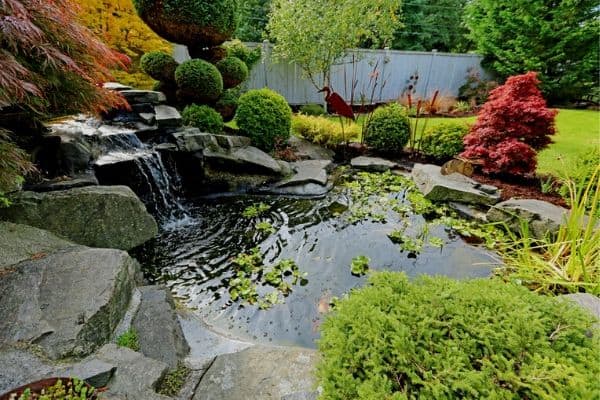 Planting around the pond edge
The best type of plants for the pond's edge are bog plants that thrive in muddy, swampy conditions.
Irises
look great around the edge of the pond and they'll grow in full sun or partial shade.
They begin blooming in early spring and can reach 2 to 3 feet (60 to 90 cm) in height.
Canna lilies
are another beautiful bog plant with brightly colored flowers that can be orange, red or yellow.
Their foliage can be green, maroon or variegated, so they look good even when they're not flowering.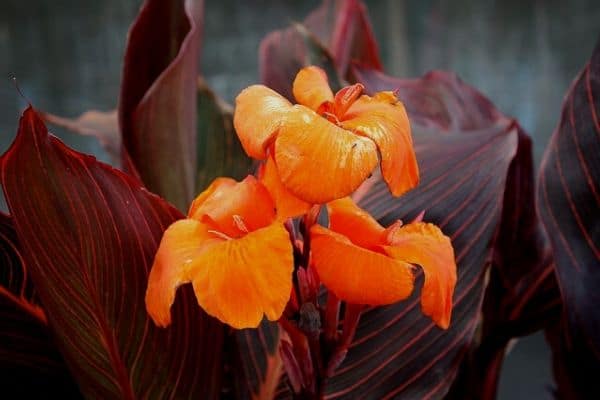 If you live in a warm, humid area you could also plant tropical pitcher plants
around your pond.
They're carnivorous plants that use a pouch of sticky sap to trap small insects like flies, mosquitoes and spiders.
As well as flowering plants, you can also naturalize the pond edge by planting some foliage plants in between the rocks to hide the pond liner.
RELATED: 10 Best Bog Plants For Ponds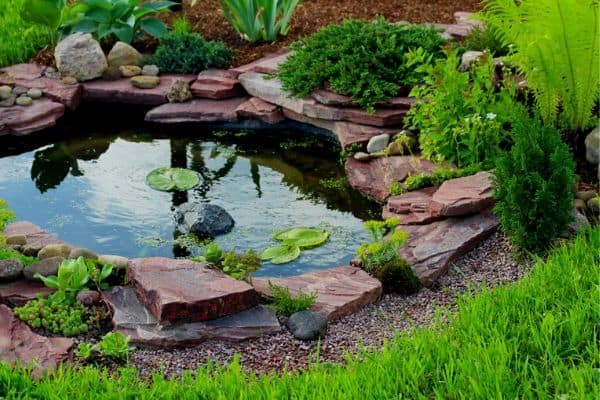 Shrubs
Planting shrubs around your pond provides a hiding place for birds, frogs and other wildlife that visit the pond.
Some attractive flowering shrubs include hydrangea
, camellia
or forsythia
.
If you're having problems with cats stalking your pond fish, you can plant a lavender
or lemon thyme
bush near the pond which is said to deter nuisance cats. [1]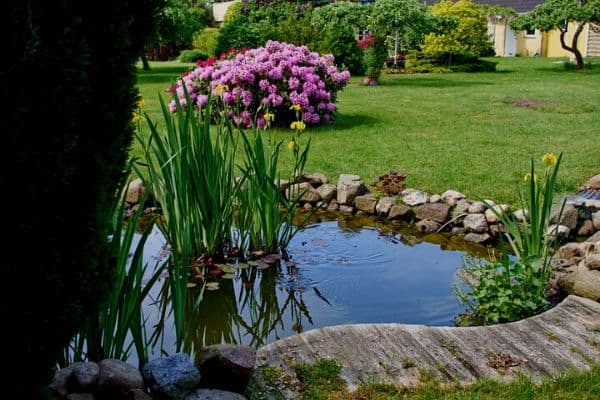 Shade loving plants
If your backyard is heavily shaded you can still have a beautifully landscaped pond area.
Bleeding Hearts
are attractive perennial flowers that will brighten up a shady garden and azaleas
are a good choice for backyards with morning sun and afternoon shade.
Ferns are a popular choice for shady areas of the garden and you can't go past coleus
, which has beautiful bright foliage that will provide some color when the flowering plants aren't blooming.
Ground covers
Ground cover plants are ideal for bringing color to the pond area.
Some beautiful flowering ground cover plants include creeping phlox
, which creates a carpet of flowers; sweet alyssum
, with its masses of tiny white flowers or portulaca
, which is an easy to grow annual that readily reseeds, so it will come back year after year.
Grasses
Ornamental grasses like lomandra
or reed grass are popular plants to include around the edge of a pond.
They're low maintenance, drought tolerant and they provide a hiding space for frogs and other wildlife that visit the pond.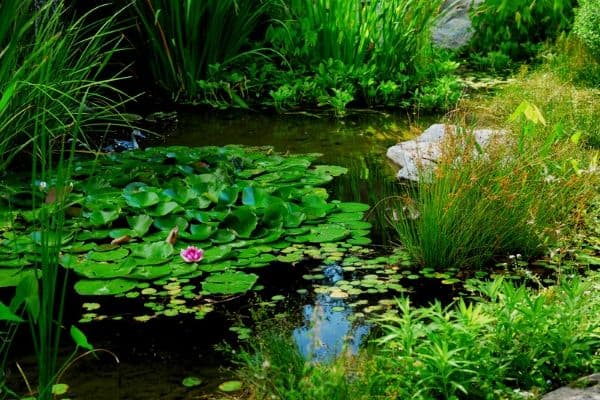 So there are some ideas for landscaping around your garden pond.
With the right plants, you can create a beautiful backyard oasis with your pond as the centerpiece.
Depending on the climate where you live, you may be able to have beautiful flowering shrubs and plants in bloom for most of the year.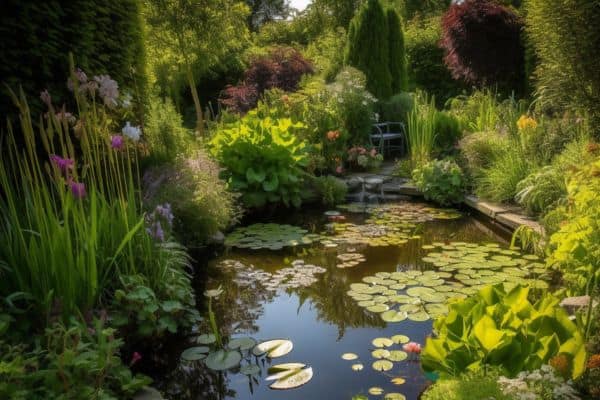 Here's a quick video that will give you some more plant ideas for in and around your pond.
RELATED ARTICLES
Which plants do you like best for pond landscaping? Let me know in the comments below.
Are you on Pinterest? I have boards dedicated to Garden Ponds and Pond Plants that you may find interesting.
Don't forget to pin this post so you can come back to it when you're ready to start your landscaping project.