How to choose the best rocks and stones for your pond
Decorative rocks are great for beautifying a garden pond and helping the pond to blend into the surrounding landscape.
Placing rocks around your pond also helps to hide the pond liner and encourages wildlife to visit your pond.
Installing pond rocks is a tiresome job, so it's important to choose the right rocks and stones.
This post about rocks for ponds contains affiliate links. Please read the disclosure for more info.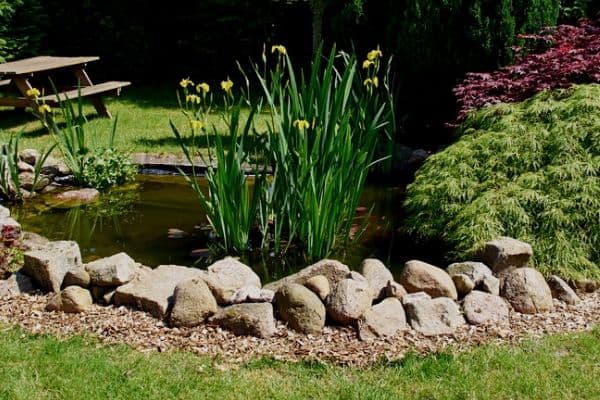 Before purchasing your rocks, it's a good idea to sketch out a design so you'll have an idea of how many rocks you need.
When choosing your rocks, consider the color of your brickwork and paving to ensure that the colors blend in to the surroundings.
Do you want a natural looking pond with different shaped rocks or a formal looking pond with rocks of a similar shape and size?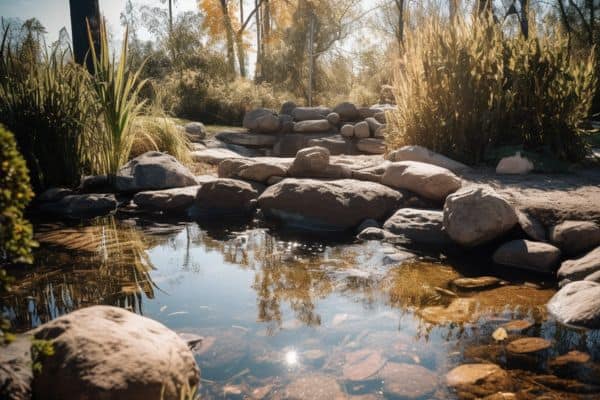 Do you prefer smooth rocks or jagged rocks? There are so many options to consider!
You also need to think about how the pond will look from the house.
Too many large rocks and boulders can block your view of the pond from indoors.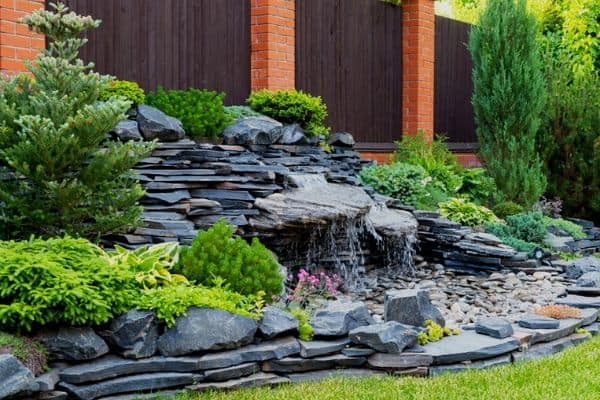 Best rocks for ponds
There are many different types of pond rocks to choose from including:
Granite
Granite is commonly used as an edging stone around ponds and it can also be used as stepping stones to create an attractive pathway in the backyard.
Flagstone
Flagstone is another type of stone that can be used around the edge of a pond. It makes good paving stones as well.
Sandstone
Sandstone is one of the softest rocks and it absorbs water, so it's not the best choice for wet areas like waterfalls.
In cold climates, sandstone can easily crack as the absorbed water freezes and thaws.
Slate
Slate is a durable stone that is a good choice for water features.
You can stack several flat pieces of slate to create a beautiful waterfall in your pond.
Limestone
Limestone can crumble easily, so it's not a good choice to use near a pond.
If small pieces of limestone enter the pond, it can make the water too alkaline, which is harmful for fish and other wildlife that visit the pond. [1]
Artificial rocks
Artificial rocks
are another option for pond edging. You can make them yourself in your backyard or buy them pre-made.
Using artificial rocks means that you can create the exact shaped rocks that you want, while also saving on transport costs.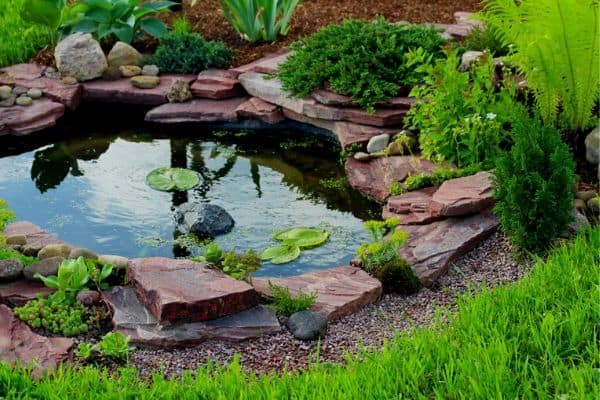 Installing pond rocks
Handling rocks is a laborious job with lots of heavy lifting and re-positioning the rocks to get the right look.
Wear thick garden gloves
and use a garden cart
to help move the rocks around if you haven't got anyone to help you.
Flat rocks can be placed around the edge of the pond to create an overhanging shelf. This will provide shade for the fish and a place for them to hide from predators.
Rounded rocks with a smooth surface also look great placed around the edge of the pond and they're ideal for lizards to sun themselves on.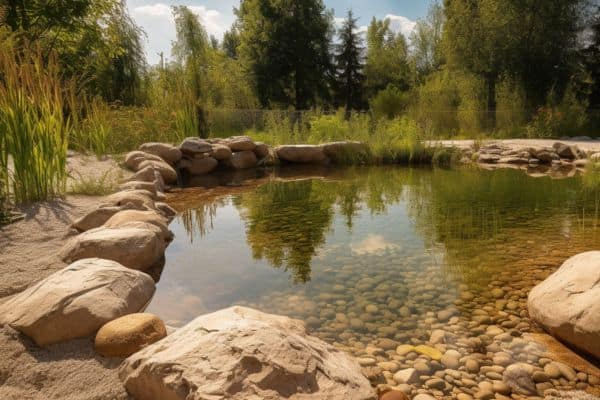 You can also place a few large rocks in shallow areas of the pond for birds and small insects to land and take a drink.
Use gravel or small pebbles
to fill the gaps between rocks or create a beach leading into a shallow area of the pond.
Pavers can be extended out to be used as a border around the pond and you can create a seating area to sit and enjoy the pond.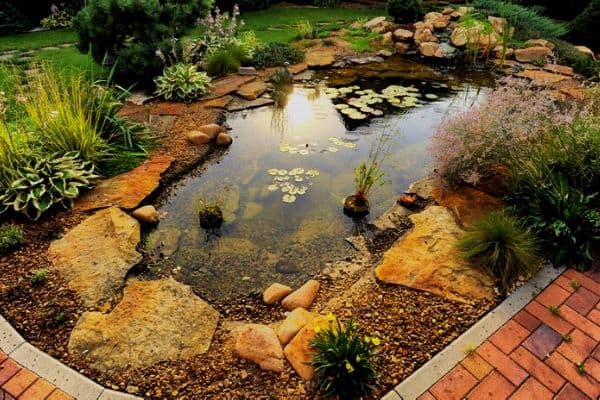 You can place a few large rocks or boulders on one side of the pond and plant marginal or bog plants on the other side.
Once you're happy with the position of your rocks, you can cement any large boulders and rocks into place to keep them sturdy.
So there are my tips for using rocks and stones in your pond design.
Pond rocks not only give your pond a natural look, they're also beneficial for visiting wildlife.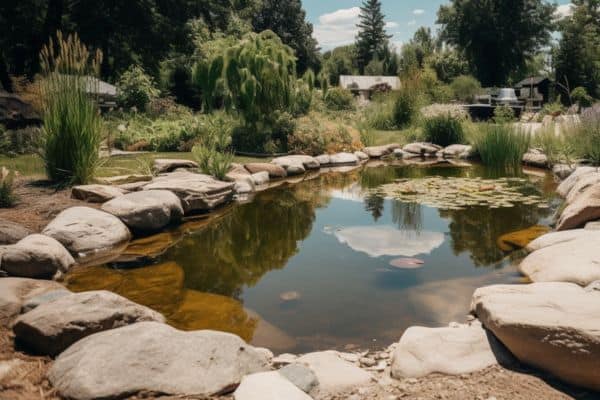 RELATED ARTICLES
What type of rocks do you use for your pond? Let me know in the comments below.
Are you on Pinterest? I have boards dedicated to Backyard Ponds and Water Gardens that you may find helpful.